Last year so many of us participated in protests, marches, and rallies for racial justice. We flooded our timelines with messages of solidarity and donation links, and called on brands to do the same. Brands answered that call with a barrage of statement after statement of solidarity with the Black Lives Matter Movement, some becoming so disingenuous that a parody post mocking the cookie-cutter-like outpouring went viral.
A year and a half later, one thing has become clear: statements of solidarity, donations, and fluffy Black History Month and Juneteenth campaigns aren't making the cut. They want lasting, institutional change, and they expect brands to step up to the plate. 63% of Millennials and Gen Z feel that brands still haven't done enough to support Black Lives Matter.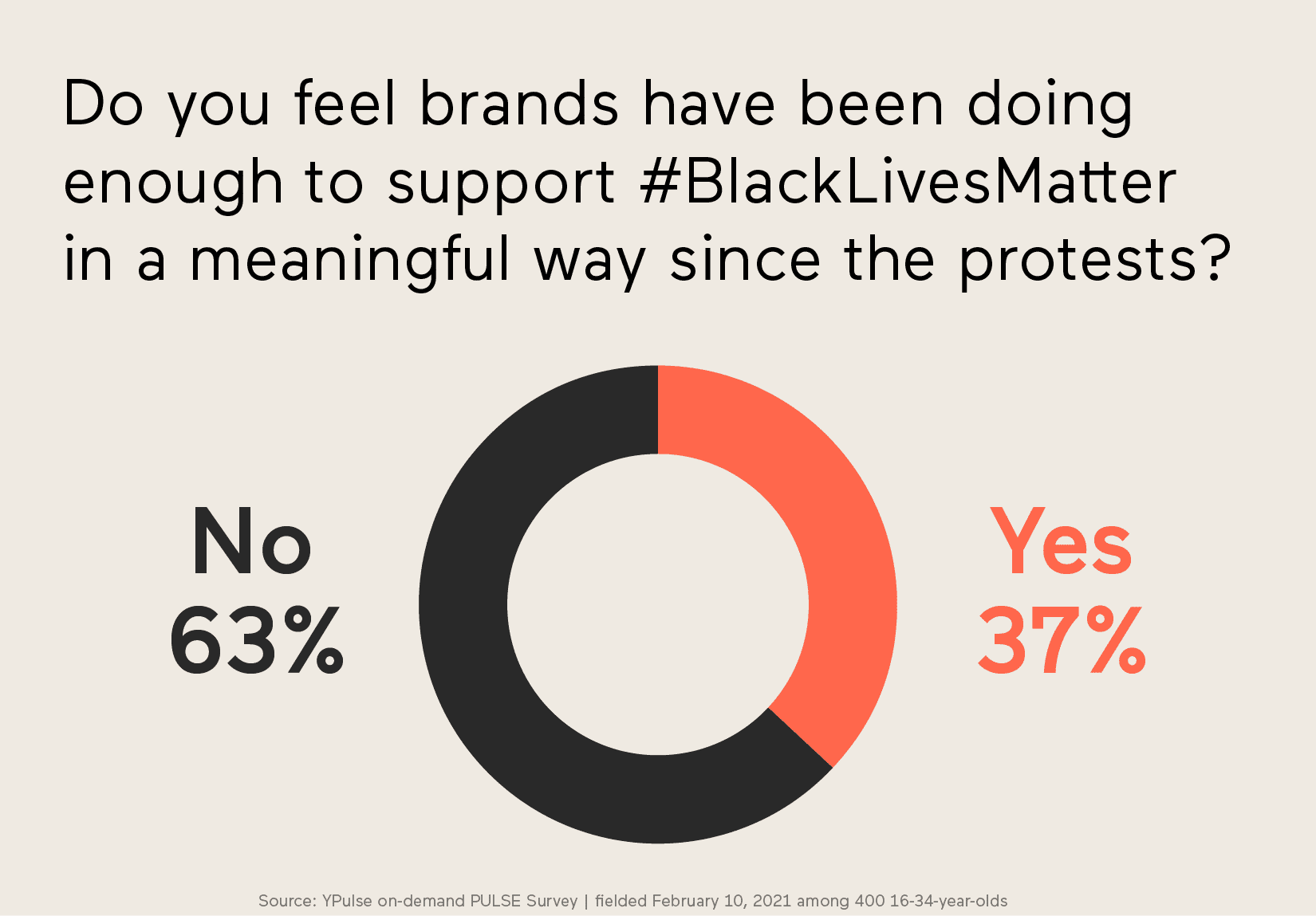 By February of 2021, Millennials and Gen Z's expectations of brands shifted from online showings of solidarity to more institutional changes like better hiring and training practices: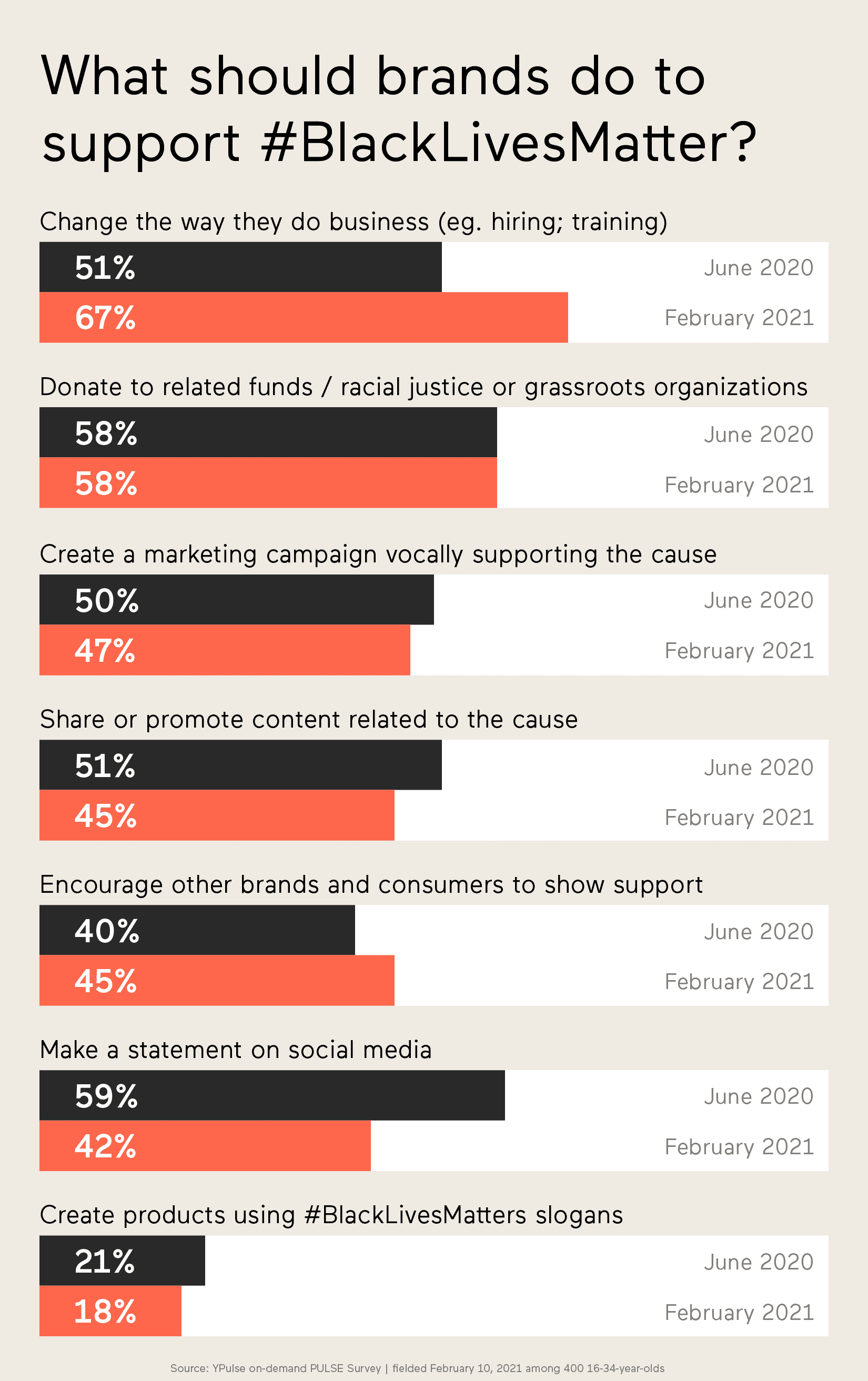 That's not to say there weren't any standouts in the beginning, though. Savage X Fenty and Fenty Beauty rerouted all web traffic to bail funds and local anti-racist organizations in Minnesota. Netflix pledged $100 million to the Black community and released their first inclusivity report and made moves to put more Black talent on screen and behind the scenes. Ben & Jerry's partnered with Color of Change and its local NAACP, releasing a lengthy statement that led with the hard-hitting headline: DISMANTLE WHITE SUPREMACY. As extraordinary as these actions were, they're just small ways that brands can begin the fight against racism and white supremacy, and we'd be hard pressed to find a brand that has consistently followed up with institutional changes.
While that sounds daunting, the good news is that you don't necessarily need to be a Savage X Fenty, Netflix or Ben & Jerry's to make tangible change. Here are some ways brands can ensure that they are making changes that will last:
Be specific.
Name racism. Name white supremacy. Don't be shy about it. Vague language is an immediate red flag. People don't want to contribute to brands that play fast and loose with their humanity, and clarity is crucial.
Be authentic.
Make sure your response is true to your brand. A good way to start is by looking at your industry, finding the ways in which it contributes to racial injustice, and going from there. Working to bring equity to your industry builds something stronger and longer lasting than scrambling to follow some other brand's lead. Always look inward first.
Be accountable.
Be honest about your brand's stance on racial justice now, and where they have stood in the past. If your brand's track record on racism hasn't been great, acknowledge that. The work of justice begins internally. Any action taken without introspection is sure to fall on deaf ears.
Take action.
This is the most crucial part! You can wax poetic about racial injustice all you want but nothing matters until your brand actually DOES something. Most brands do a great job of donating to worthy causes, but oftentimes that's where the action stops. Donations to anti-racist organizations are nice, but it means very little if your home offices, board rooms, and store fronts are not welcoming places for Black people (or any other marginalized group).
A lot of brands hesitate once it's time to take action. Saying the wrong thing, hiring the wrong person, or pandering can derail the most well-meaning gestures, but that's part of the learning process. And after all, the risk is certainly worth the reward of making a difference and gaining more consumers in the process.
It's easy to make social media statements and throw money at an issue every time racial injustice occurs, but it isn't sustainable. Here we are a year and change later, and not much has changed, even after the herculean efforts made by multiple organizations. If brands really want to stand against racism, they're going to have to change the way they operate, and not just in February or June. Unless your brand has specificity, authenticity, or accountability, every action you take toward racial justice will fall flat. Millennials and Gen Z consumers are more interested in brands making lasting changes like hiring BIPOC employees, cultivating inclusive workplaces, and using their platforms to create equity within their industries- and in turn, the world over.