Whether you're new and looking to break into the industry or you've been in the ad game for quite some time, you've probably heard of the "Cannes Lions''.
For those who don't know, the Cannes Lions International Festival of Creativity is a global awards event that is held annually at Palais des Festival et des Congrès in Cannes, France. It is considered one of the largest and most prestigious gatherings in the advertising world. This event is a five-day festival to celebrate creativity, network, and discuss award-winning work.
Last summer, I had the opportunity to participate and compete in Future Lions, a global student competition hosted by AKQA, to inspire and generate the next wave of creative talent entering the industry. The selected client was Gymshark; the brief was a call to action for young people to build a better future and overcome the barriers they face to create a healthier life for themselves. One of the challenges was to come up with an innovative idea that wasn't possible five years ago. Judges weren't looking for a typical ad concept, but for innovative ideas that could potentially impact culture.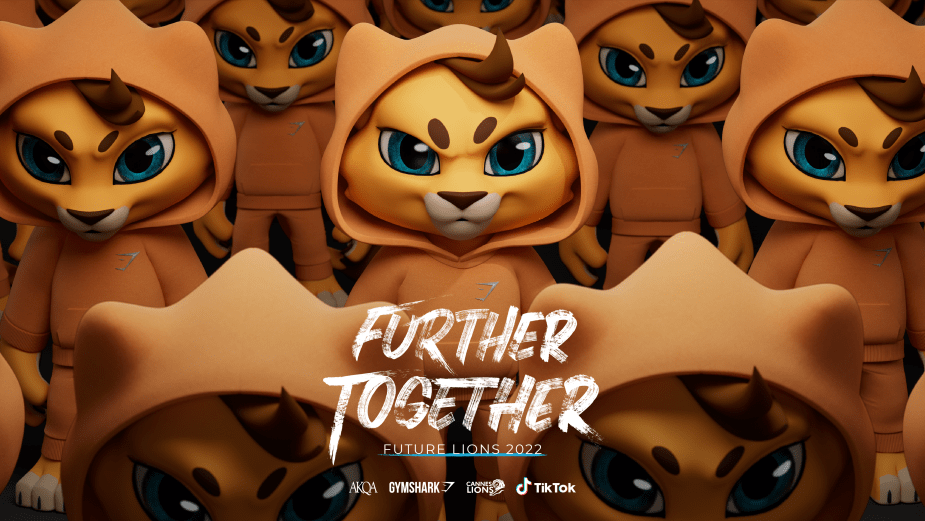 Our Ticket to Cannes
Out of 600+ entries globally, my team and I were selected as one of the four winning teams. Our winning entry, "The Tank by Gymshark", is a TikTok smart filter that matches you to a virtual trainer with a similar body type to you. The filter improves as you do without being faced with unrealistic body image ideals. In addition, the filter is a 90-day comprehensive workout program that allows people to track their progress and hone their fundamentals.
The inspiration behind this idea was based on the insight that many people feel intimidated by the gym because they can't find anybody that looks like them. What if people could train and learn fundamentals from someone that had a similar body type as them, but also meet them where they already are?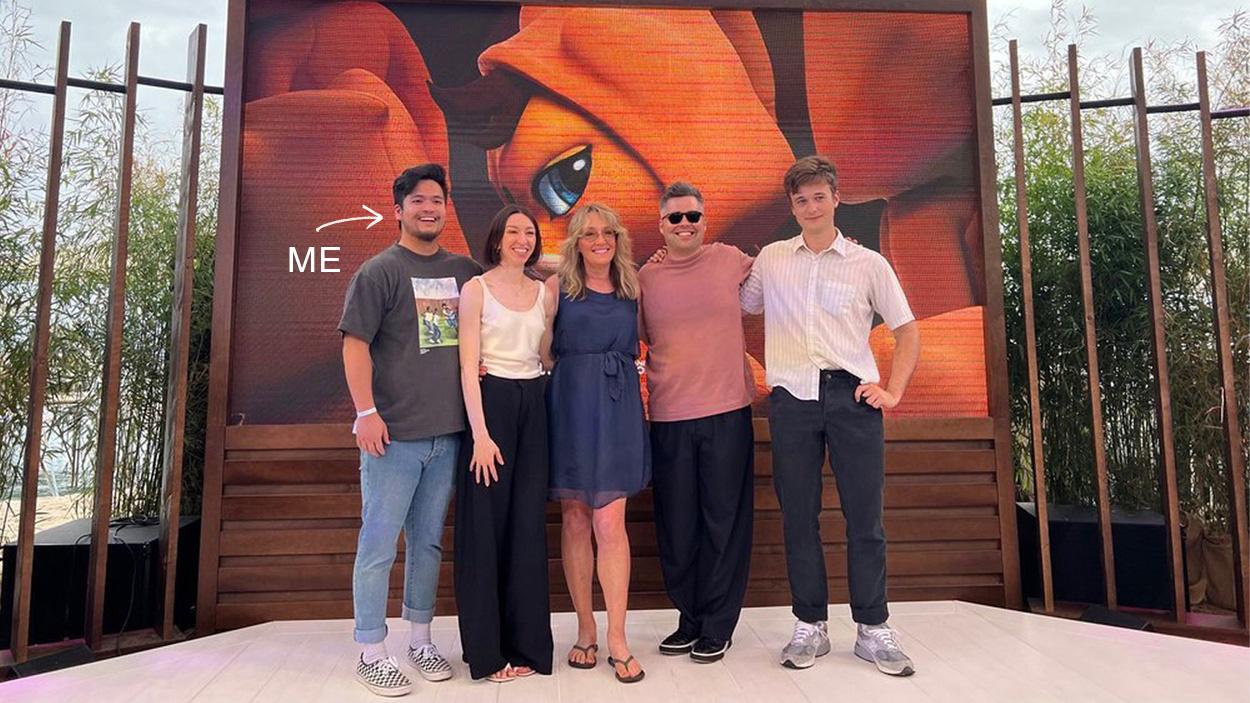 At the Festival
Fast forward to the moment I arrived at Palais des Festival et des Congrès, I knew I wanted to take full advantage of the festival. From attending award ceremonies, and workshops led by industry leaders, to experiencing huge brand activations. The entire week was a great learning experience and a reminder of why I do what I do, which motivated me to share a few takeaways.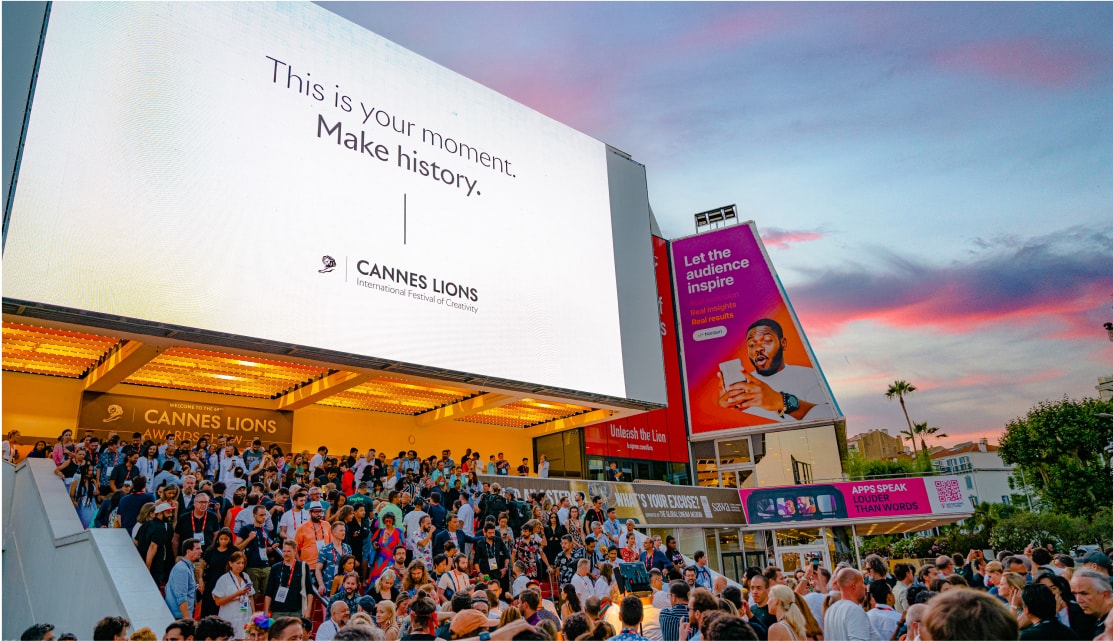 Creativity is not linear
As I walked through the halls of the Palais and saw hundreds of award-winning work being posted on the wall, I immediately felt my creative juices flowing around me. It brought the feeling when I was younger at the book fair reading anything that caught my interest. My favorite part was getting the chance to read beautiful concept boards and learning how each of the creative solutions pushed the boundaries to solve a problem. Even when the brief was mundane, each of the creative solutions was approached from a different angle.
One campaign that displayed a great example of pushing boundaries would be "The Tampon Book", a book designed against tax discrimination in Germany. This campaign was awarded a Gold Lion in the creative effectiveness category. The work was tangible and capable of forcing a change to create an everlasting impact. It once again reminded me that there are many ways to solve a problem. That's what makes being creative in this industry so exciting.
Brands stepped up
This was the first time the festival was hosted back in person after a two-year hiatus, and the brands brought their A-game. Pinterest, TikTok, Spotify, Meta, Reddit, and Twitter all had major beachside brand activations. All of them represented their brand in the best way possible, so no activation was similar.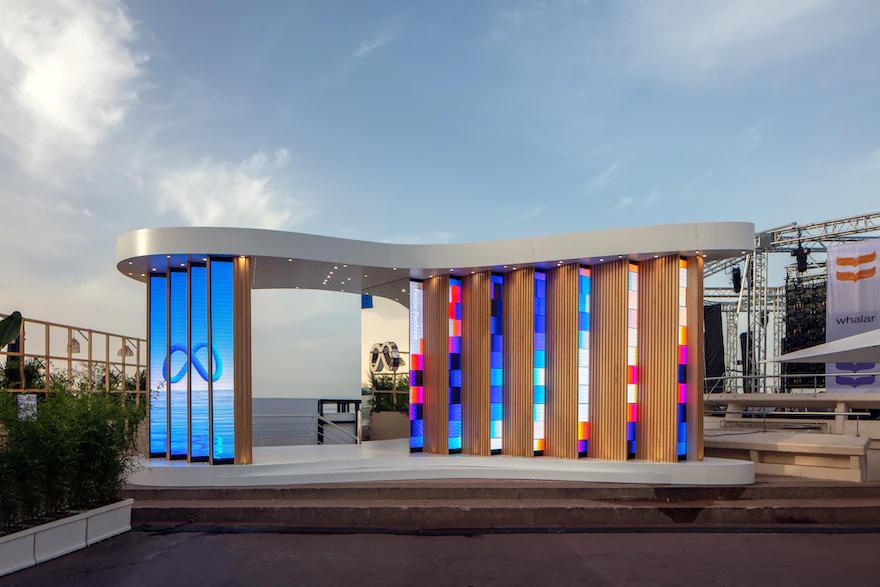 Brands showed next-level use of consumer engagement through experience design, immersive, creativity, and overall 360 customer experience. For instance, one of Meta's virtual reality experiences was a game called "Space Explorers". This was one of the largest productions ever filmed in space and a four-part epic immersive series that allowed people to join eight astronauts on extravagant space missions while experiencing the joy and dangers in orbit. Participating in this made me realize how powerful virtual reality can be when combined with amazing storytelling.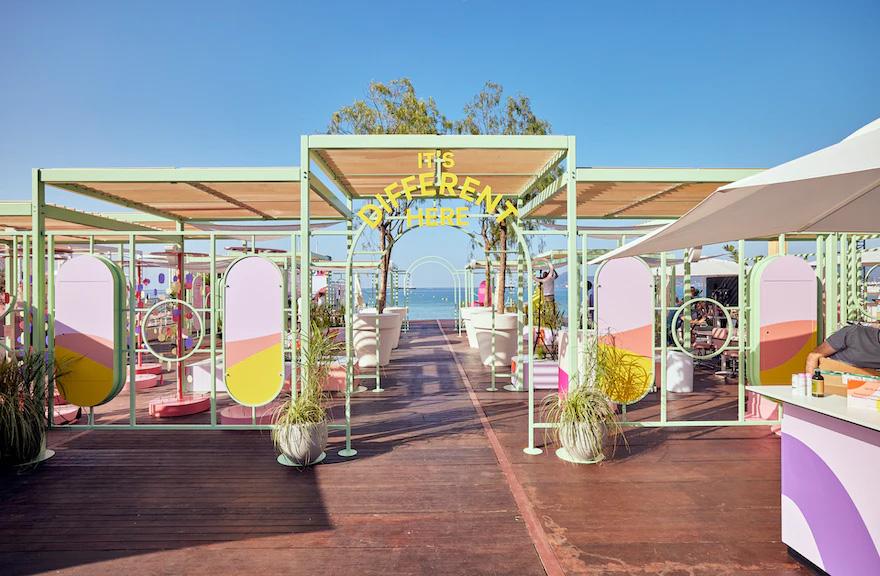 Pinterest set up stations along the beach where people could screen print their own designs, get a micro tattoo, or create a new aesthetic for themselves with nail paintings. If you guessed the micro tattoos had the longest line... you're right. I didn't get the chance to get one, but if I ever go back, I'd be sure to get one as a memory. This was well thought out to inspire people to try new things and the way they had structured the entire activation essentially brought the Pinterest platform to life in the real world.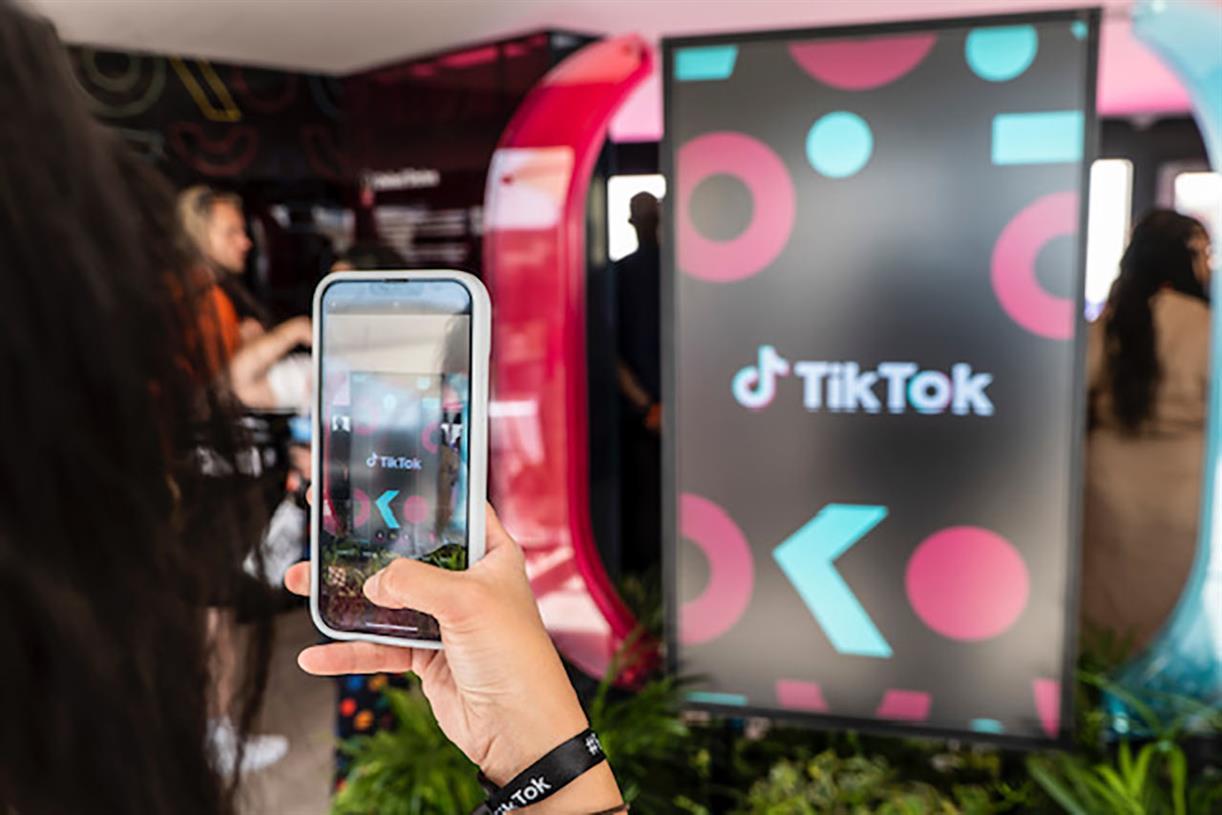 TikTok's activation was super informative, with many screen displays for people to try out different filters and how to use them. They had creators such as Tega Alexander, a creator from France, and Stephanie Valentine, a beauty guru who also goes by her handle Glamzilla. They were both on-site sharing knowledge on the different app functions and providing insight on how to build a community with fellow creators. Aside from aesthetically pleasing filters and duets, I was more surprised by the functionality of the app and how it has transformed into becoming a "search engine" for many people in the world.
Off-Script
Every year, less than 4% of award entries globally are rewarded with a Lions award. Across all of the awarded work, the thing that stood out to me the most was that the creative was human-centered and focused very little on the product. These are a few of my favorite pieces that took home awards based on their simplicity, innovativeness, and level of craft.
Apple – Escape From The Office
This film from Apple was awarded a Grand Prix in the Film category. This eight-minute short film was about a team of employees looking to escape from their evil boss by launching a new idea and turning it into a company with the help of numerous Apple devices. I thought the combination of storytelling and product placement throughout the entire film was seamless. Throughout the film, there were a lot of relevant moments that many could relate to in a work setting, and most importantly, the use of humor in telling the stories that people have with the devices was the best part.
Girls Who Code – DojaCode with Doja Cat
This piece of work from Girls Who Code was awarded a Gold Lion in the Brand Experience and Activation category. First time and with the help of Doja Cat, they turned a music video into a code-able experience for women all over the world to learn. Women can customize and create their versions of the music video, making it a fun and accessible learning experience for everyone. This was an innovative and functional concept that was executed perfectly by using technology in a way for the female audience in a culturally relevant fashion. In addition, the mission-driven aspect behind this concept was impactful because it essentially exposed the audience to the world of coding for the first time in a genuine way.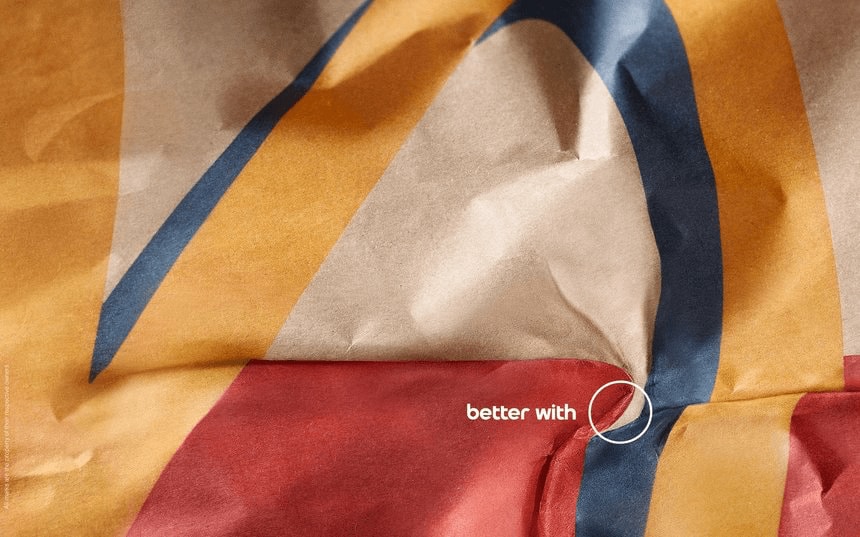 It's always good to see a clever, beautifully crafted print ad, and this is one of them! This piece of work won a Gold Lion in the Outdoor + Print Publishing category. One of the aspects I love about this piece of work is the craft and the art direction. This execution is effective and simple, yet carries out the concept extremely well. Anyone who looks at the work will quickly understand the message without further explanation and I think that's what makes it award-winning.
---
My main takeaway from these favorite pieces: the power of creativity can not only solve business problems, but also world problems. As you can see, many that have won awards embody those traits and it goes to show that when it's executed perfectly, it can truly be beautiful.
Marc Pritchard

Chief Brand Officer at Procter & Gamble

That's the joy of creativity. It touches hearts and minds, gives people something of personal value, and can make them smile, laugh, cry, act and, of course, buy.
Closing Thoughts
After a week of fully immersing myself in creativity and inspiration, this was an incredible experience that I will remember for a long time. It has certainly set the bar for me of what good "creative" should look like. As a creative, it will be my endless pursuit to try and create work of that caliber. One thing I am certain of is that the craft of storytelling still exists regardless of emerging technology. For work to move the needle and create change, it needs to be human-centered. At the end of the day, we're in the business of people and communication. The more we can relate to people on a personal level, the more genuine relationships begin to happen between people and brands.